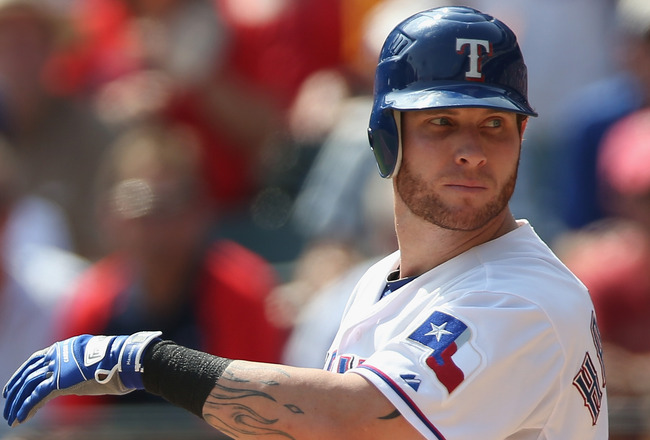 As you have surely already heard by now, the Angels shocked the baseball world for the second consecutive winter by signing free agent outfielder, Josh Hamilton to a five-year contract worth $125 million. Hamilton was widely considered the top free agent position player on the market, and it was assumed that he would resign with the Angels' division rival, the Texas Rangers. But that all changed once the Halos swooped in.
Since reaching the big leagues in 2007 with the Reds, Hamilton has been one of the game's premier sluggers, as well as one of its most popular stories. After being traded to the Rangers following the 2007 season, Hamilton has produced prolific numbers. The former AL MVP hit .285/.354/.577 with 43 home runs and 128 RBI's last season with the Rangers. In his career to date, Hamilton has hit .304/.363/.549 while being worth just over 23 wins above replacement.
With the Hamilton signing the Angels' lineup now looks like this:
Mike Trout, CF
Erick Aybar, SS
Albert Pujols, 1B
Josh Hamilton, LF
Kendrys Morales, DH
Mark Trumbo, RF
Howie Kendrick, 2B
Alberto Callaspo, 3B
Chris Iannetta, C
The Angels have positioned themselves well for 2013. Hamilton is a big boost to their offense, which should be among the best in baseball, and they have already added quite a bit to their pitching staff this offseason. The Halos also now hold a surplus of outfielders, with Peter Bourjos and Vernon Wells on the bench, and Kole Calhoun in the upper minors. The Angels could look to upgrade their rotation by dealing a package built around Bourjos and/or Hank Conger. They could also try to rid themselves of Vernon Wells' contract by packaging him up with one of the aforementioned players (or maybe Kendrys Morales) whilst also sending a large sum of cash in return.
The Angels also did well in stealing away Hamilton from the rival Rangers, who are in shambles after losing out on Hamilton, Zack Greinke, Justin Upton, and James Shields in less than a week's time.
There is some risk in this deal, as Josh Hamilton is anything but a sure thing. We all know about his past troubles and injury history, so I won't go into that, but he's also on the wrong side of 30, and the Angels are essentially paying $125 million for the downturn of his career. The club's payroll is significantly bloated, and this could come to hurt the Angels down the road if and when they attempt to lock up Mike Trout or add another piece down the road.
Overall, this signing looks great for the Angels in the immediate future. With a roster full of superstars, the Angels will be looking to make fans forget last season by making the playoffs in 2013. Right now, they look to be neck and neck with Texas as the division favorites. There are going to be really high expectations for this team next year, and Arte Moreno, Jerry Dipoto, and company are determined to live up to those expectations.
You can follow Justin Millar on twitter at @justinmillar1, or email him at Justinmillar1@gmail.com. Comment below to join the discussion.